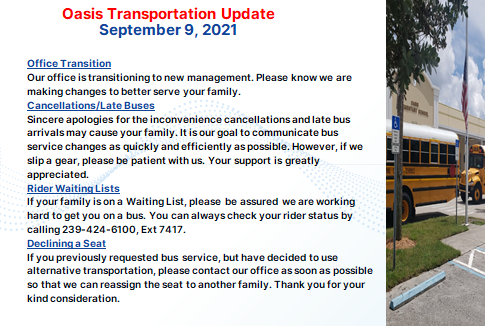 Office Transition
Our office is transitioning to new management. Please know we are making changes to better serve your family.
Cancellations/Late Buses
Sincere apologies for the inconvenience cancellations and late bus arrivals may cause your family. It is our goal to communicate bus service changes as quickly and efficiently as possible. However, if we slip a gear, please be patient with us. Your support is greatly appreciated.
Rider Waiting Lists
If your family is on a Waiting List, please be assured we are working hard to get you on a bus. You can always check your rider status by calling 239-424-6100, Ext. 7417.
Declining a Seat
If you previously requested bus service, but have decided to use alternative transportation, please contact our office as soon as possible so that we can reassign the seat to another family. Thank you for your kind consideration.