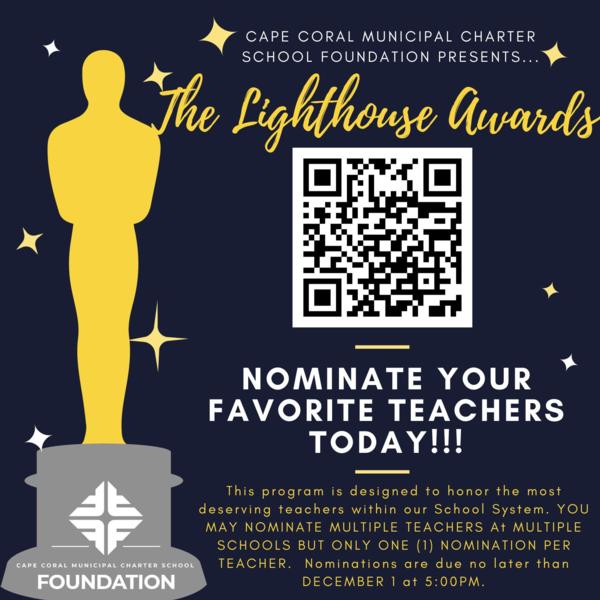 https://forms.gle/n88K1qiqEVwCY2qk6
THE LIGHTHOUSE AWARDS
Presented by the Cape Coral Municipal Charter School Foundation
The Lighthouse Award Recognition Program is administered by the Cape Coral Municipal Charter School Foundation and overseen by the Lighthouse Award Committee. This program is designed to honor the most deserving teachers within our Charter School System.
Nominations Process
Students, former students, parents, colleagues, administrators and the community at large are encouraged to nominate any Oasis educator who they feel makes an impact in the classroom in a positive manner.
All educators listed below are eligible for Lighthouse nomination.
Classroom Teachers who are certified

Media Specialists who regularly teach in classroom setting

Coaches who teach

Specialized Subject Teachers
Nominations are collected via electronic communication ONLY.
Please note, that in 2016, "The Beacon Award" was created for support staff with only one (1) recipient between all four (4) Oasis Schools. Those listed below are eligible for that nomination. The application process is different and is run by the Cape Coral Charter School Authority and the Superintendent. The nomination process is completely separate.
Paraprofessionals

Guidance Counselors

Coaches who don't teach

Support Personnel (facilities, cleaning, cafeteria, nurse, office, etc)

Bus Drivers
Eligibility
While all educators are eligible for nomination, those who wish to be considered for the Lighthouse Award must meet ALL of the following criteria:
Currently teaching full-time at Oasis Elementary North or South, Oasis Middle School, or Oasis High School

Employed in good standing and not currently on a Performance Development Plan or probationary period

Certified educator with at least one full year of teaching experience in the Oasis Charter School system

Is not a former recipient of the Lighthouse Award within the past five (5) years

Meet the professional standards as set forth by the Oasis Charter School Authority and the State of Florida
A school must have a minimum of 3 eligible candidates to continue in the Lighthouse Award process.